This is the top of the main content
4. Upcoming projects 2023 to 2027
While the Radio Spectrum Management (RSM) work programme for 2023 to 2027 is subject to government direction, these potential projects have been raised in response to ongoing regulatory responsibilities and the action points arising from industry trends and sector developments outlined in Section 3.
There are 2 overriding factors influencing the period 2023 to 2027 that are geared towards leveraging the radiocommunications sector and the digital economy to grow New Zealand for all. Notably:
enabling nationwide roll-out of 5G services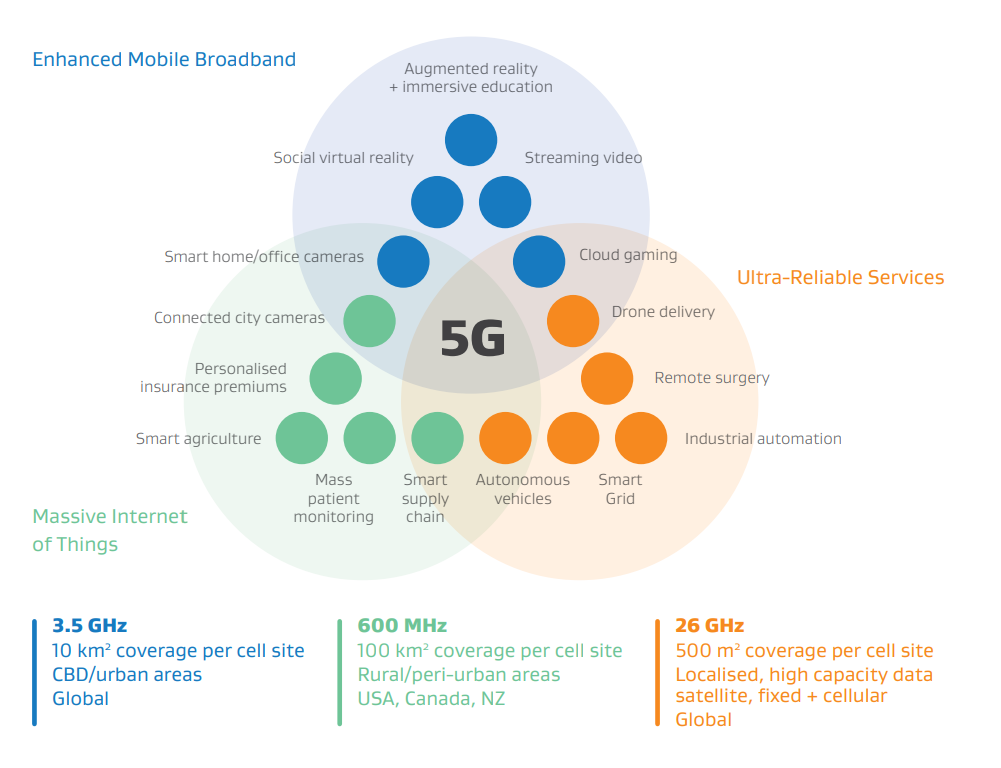 Text description for figure 5: 5G spectrum strategy
4.1 Enabling the nationwide roll-out of 5G services
Digital technologies are evolving rapidly and have wide-ranging impacts across economic, social and public sector domains. It is therefore important for government to respond in a timely and coordinated way in order to create an environment for digital transformation.
Additional spectrum bands identified for IMT 5G services will further facilitate roll-out of 5G services. As shown in Figure 5 some of these frequency bands may also facilitate a future a transition to 6G.
4.2 Implementing the enduring agreement between Māori and the Crown
In February 2022 the Government signed a Memorandum of Understanding on Radio Spectrum (MOU) with the Māori Spectrum Working Group.
The MOU establishes a long-term, enduring agreement that recognises Māori interests in radio spectrum. These interests include digital enterprise and jobs, healthcare, rural economy and connectivity, education, broadcasting, and revitalisation of te reo Māori.
The MOU was developed in partnership with the Māori Spectrum Working Group. It is an opportunity to build Māori capability in spectrum-related industries and see Māori participating more prominently in this growing sector. The Māori Spectrum Working Group was established by Māori in 2019 to lead this work with the Government. The details of the agreement include an ongoing allocation of national spectrum, a role for Māori in spectrum policymaking, and the establishment of a permanent Māori spectrum entity to hold and manage the spectrum allocation on behalf of Māori.
The full MOU can be found on the Ministry of Business, Innovation and Employment (MBIE)'s website:
Memorandum of Understanding - Māori Spectrum agreement [PDF, 661 KB](external link) — MBIE
4.3 Upcoming spectrum projects 2023 to 2027
This outlines our major activities and projects over the upcoming outlook period. A brief description is provided of each activity and how it relates to each of the trends identified in this Spectrum Outlook.
Summary of RSM's potential work plan
Text description of figure 5 – 5G spectrum strategy
Enhanced mobile broadband
3.5 GHz (10 km² coverage per cell site, CBD/urban areas, global)
Augmented reality and immersive education
Social virtual reality
Streaming video
Smart home/office cameras
Cloud gaming
600 MHz (100km² coverage per cell site, rural/peri-urban areas, USA/Canada, NZ)
26 GHz (500m² coverage per cell site, localised, high capacity data satellite, fixed and cellular, global)
Ultra-reliable services
26 GHz (500m² coverage per cell site, localised, high capacity data satellite, fixed and cellular, global)
Industrial automation
Smart grid
Autonomous vehicles
Remote surgery
Drone delivery
3.5 GHz (10 km² coverage per cell site, CBD/urban areas, global)
600 MHz (100km² coverage per cell site, rural/peri-urban areas, USA/Canada, NZ)
Massive internet of things
600 MHz (100km² coverage per cell site, rural/peri-urban areas, USA/Canada, NZ)
Smart agriculture
Personalised insurance premiums
Connected city cameras
Smart home/office cameras
Mass patient monitoring
Smart supply chain
3.5 GHz (10 km² coverage per cell site, CBD/urban areas, global)
Smart home/office cameras
26 GHz (500m² coverage per cell site, localised, high capacity data satellite, fixed and cellular, global)
---
< 3. Looking forward – Trends in spectrum management | Summary of RSM's potential work plan >