This is the top of the main content
Our team
There are 3 teams in Radio Spectrum Management — Policy and planning, Licensing, and Compliance.
Policy and planning team
The Policy and planning team:
provide advice to government on:

legislation supporting the allocation and management of the radio spectrum
the creation, disposal, and retention of spectrum property rights
the administration of radio licences.

manage the allocation of Crown management rights and spectrum licences (including allocation by sale or auction)
represent New Zealand's interests in international radio spectrum forums
support the management of New Zealand's radio spectrum by:

developing technical frameworks
publishing band plans and technical rules.
Licensing team
The Licensing team manage:
the online Register of Radio Frequencies (RRF) — this holds details of all radio licences, spectrum licences and management rights
radio licensing
accreditation for radio engineers and certifiers, and operator certificate examiners.
Compliance team
The Compliance team are responsible for:
investigating radio frequency interference
enforcing compliance — including administering the electromagnetic compatibility compliance framework for electrical and radio products
auditing licence holders to make sure they're meeting the conditions of their licence
auditing product suppliers for compliance with standards, labelling and declaration requirements.
ISO Management System Certification
---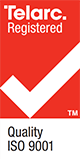 ISO certification is an international standard for management systems. This ensures that the highest possible standard is reached at all times.
Radio Spectrum Management has received ISO 9001:2015 certification for it's Quality Management System.
ISO 9001 and related standards(external link) — ISO website
Radio Spectrum Management is responsible for efficiently and effectively managing the radio spectrum in New Zealand.