This is the top of the main content
VHF Band I technical consultation
In 2014 we consulted on a proposal to create a new General User Spectrum Licence for short range devices (SRDs) in VHF Band I, which was formerly used for television broadcasting.
Consultation document
A key issue in the consultation was whether the proposed General User Spectrum Licence (GUSL) should be limited to a specific use (such as toy grade remote-controlled devices) or non-specific uses (that is, allowing other SRDs). This consultation has now closed.
VHF Band I: Short range devices at 49 MHz — technical consultation [PDF, 359 KB]
Submissions received
Two submissions were received and are available for download below:
Outcomes
In order to permit a range of SRDs manufactured to both American and European standards, we decided to create a new GUSL in the frequency range 49.82-49.98 MHz to allow 2 types of use:
Higher power transmissions (-10 dBW e.i.r.p.) within a narrower bandwidth at the bottom of the band (49.82-49.90 MHz):

To accommodate American-standard devices such as remote controlled toys and models.
Devices must conform to the US standard: CFR Title 47 Part 15 – Radio Frequency Devices: Subpart C 15.235.

Lower power transmissions (-20 dBW e.i.r.p.) within a wider bandwidth across the whole band (49.82-49.98 MHz):

To accommodate wider range of European-standard devices, such as baby monitors.
Devices must conform to the European standard: ETSI EN 300 220-1 (latest v2.4.1).
This is shown in the figure below.
Figure 1: GUSL for SRDs at 49 MHz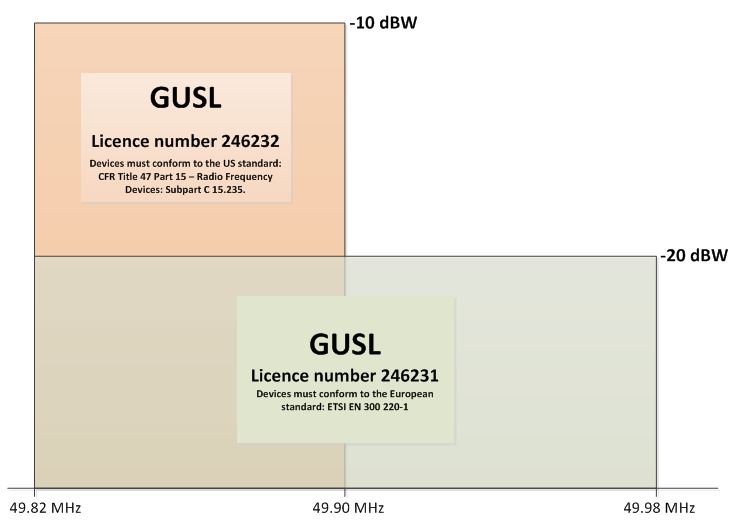 Transfer to GURL SRD
Upon expiry of the management right MR47 at the end of August 2015, provisions in these two GUSLs transferred to the GURL for Short Range Devices.