This is the top of the main content
Search management rights in the RRF
A step-by-step guide to searching management rights in the Register of Radio Frequencies (RRF).
Step-by-step guide
Follow this step-by-step guide to search management rights in the Register of Radio Frequencies (RRF).
Step 1
Go to the RRF by clicking on the Register of Radio Frequencies (RRF)(external link) link on the RSM homepage.
---
Step 2
From Search the Register click Search Management Rights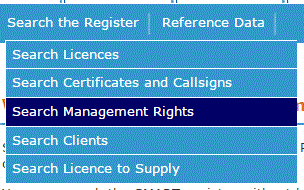 Tip
All search screens allow you to hit the Enter key on the keyboard to initiate a search.
---
Step 3
The Management Right screen displays
If you know the management right number, then enter number in MR Number field.
If you are unsure of the management right number then you have the option to search using data entered into the relevant fields in the screen below.
Click Search.
Tip
For MR's registered in the future ensure you select "Current + Registered" status.
Step 4
The Management Right Search screen displays
Click MR Number link
---
Step 5
The Management Right Summary screen displays
Click on any link associated with the MR to view technical parameters and graphs, event summary (history) and current licences contained within the MR.
Tip
If you select AFEL, Power Floor, or Protection Limit links, you can view the Emissions Limit graph
Note- This example looks at the "Licence Schedule" in Step 8. You can Exit if you do not want to continue.
---
Step 6
Click the relevant radio button to:
View the record of the MR number OR
Email an extract of the record to yourself as a PDF file.
Click Deliver. Step 7 shows an example of the record
---
Step 7
Extract of Record of MR number
Click Cancel (twice) to return to Management Right Summary screen.
---
Step 8
Click the Licence Schedule to display the list of licences in the Management Right.
Click the Licence No you wish to view.
Tip
Only current registered licences will display in the Schedule screen.
---
Step 9
The Licence Summary screen displays the licence details
Tip
If you want to search a licence other than "current" then go to Search Licence and enter MR number as your search criteria.