This is the top of the main content
Search clients in the RRF
A step-by-step guide for searching for clients in the Register of Radio Frequencies (RRF).
When searching for a client in the RRF, note the following criteria.
| If... | Then... |
| --- | --- |
| Your search does not return a result | Broaden or lessen your search criteria by following the points below |
| A person does not return a result | Ensure to search both the first and last name of that person. |
What you need to be aware of when searching for a client in the RRF
A minimum of three characters must be specified
People and organisations have

unfamiliar names such as Zhang Li Chi, OR
names are spelt differently, such as Stuart, Stewart, Stuert, or McKenzie, MacKenzie, or McNabb, McNab, MacNab,
abbreviated names such as Dept instead of Department, or NZ instead of New Zealand

Misspelt names.
Alphanumeric names such as 4RF.
Hyphenated names, such as Cooke-Willis.
Multiple client numbers for organisations such as Telecom, and Vodafone.
Organisation name changes and buy-outs, such as Fonterra used to be the NZ Dairy Board, and Fonterra bought out Mainland and Tip Top.
An Organisation name may differ to the Billing name
---
Step-by-step guide
Follow the steps below to search for a client in the Register.
Step 1
Go to the RRF by clicking on the Register of Radio Frequencies (RRF)(external link) link on the RSM homepage.
Tip
You do not need to Logon to search the register.
---
Step 2
From the Search the Register option click Search Clients.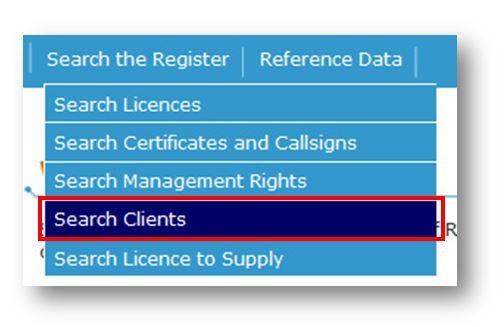 ---
Step 3
You have an option to either:
search by client name
search by client number
The following example is searching by client name:
Click the arrow next to Organisation Name and choose an option. (Tip: Contains provides greater search options)
Type the first three or four letters of the name.
Click Search or Enter from the keyboard.
Tip
If a client has multiple client numbers then choose carefully.
---
Step 5
The Maintain Client Details screen displays the client result.
Click the link to view the client's address and contact details.
---
Step 6
Click any link highlighted to view further details of client addresses and contacts.
Click Back twice to return to the Client Search results screen.