This is the top of the main content
Intelligent transport systems
Intelligent Transport Systems (ITS) are a group of technologies designed to improve road safety. They also support a more efficient use of transport infrastructure.
Dedicated Short Range Communication systems
Dedicated Short Range Communication (DSRC) systems are one example of an ITS. It's an emerging wireless technology that's designed to transmit safety and traffic information over short distances.
DRSC:
enables data communications between vehicles (vehicle-to-vehicle or V2V mode)
allows for communication between vehicles and roadside infrastructure (vehicle-to-infrastructure or V2I, mode)
supports traffic coordination and safety information broadcasting.
DSRC systems are also known as Cooperative Intelligent Transport Systems (C-ITS). They can:
help users avoid collisions at intersections
give road condition warnings
give emergency traffic notifications.
ITS deployment overseas
Some areas overseas have already allocated frequencies for ITS applications using DSRC-based technology, including:
the United States
Canada
Europe
Korea
Japan
Australia.
The table below shows a summary of international DSRC frequency proposals.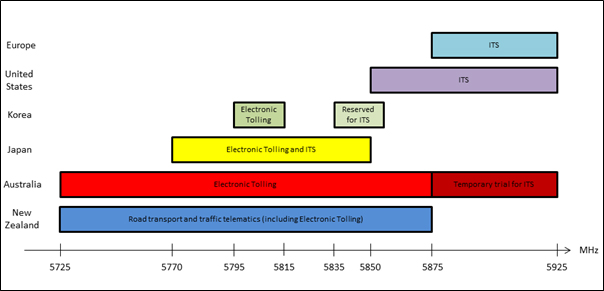 We're keeping an eye on the developments overseas — particularly those in the 5.9 GHz band. While that band may also be suitable for ITS here, it could mean we need some coordination with satellite uplink stations fixed links.
We'd be in favour of using a joint US/EU standard in NZ, if:
we can use a harmonised US and EU standard, and
that standard is compatible with other uses in New Zealand.
Work to harmonise the standards is slow. At this stage it's hard to judge what kind of impact a US/EU standard would have on other users of the 5.9 GHz band. This will be discussed at the next World Radio Conference in 2019, and we'll provide an update after that when we know more.
Our role in the international community
NOTE: Some models of Japanese vehicles have ITS technology installed in them. Anyone who buys a secondhand Japanese imported vehicle with ITS installed should be aware that it's unlikely to work in NZ.
Also, the Japanese ITS system overlaps with the 4G/LTE mobile network in New Zealand. It could cause interference with other services if it's used here. We work with the Ministry of Transport to ensure ITS equipment is removed from Japanese imported vehicles before they arrive in NZ.