This is the top of the main content
1. Our spectrum management framework
The radio frequency spectrum is regulated under the Radiocommunications Act 1989 (the Act), which sets out the rights and obligations of spectrum users and prescribes the basic structure of national radio spectrum management.
The Act also recognises the international treaties, relating to radio spectrum management, to which we are a signatory, through the International Telecommunication Union (ITU) Constitution, Convention and the ITU Radio Regulations. Administratively, the Chief Executive of the Ministry of Business, Innovation and Employment (MBIE) is responsible for the regime.
Along with the Act, there are a range of regulatory tools through the Radiocommunications Regulations 2001 and other documents that include public information brochures (PIBs). These documents establish licencing regimes as well as guide investigations and enforcement.
Transmissions of radio waves must be licenced and recorded on the Register of Radio Frequencies (RRF). The legislation provides 3 approaches to licensing:
Administrative licensing – used where spectrum supply is sufficient to meet demand. In these cases, Radio Spectrum Management (RSM) makes spectrum available for licensing of specified services and issues radio licences to applicants on a first-come, first-served basis. Each licence is for a given geographic area. These licences may be revoked by RSM and are not tradable.
Spectrum rights – often used for spectrum where demand exceeds supply, in particular the frequencies suitable for cellular and broadcasting services. Rights are created by RSM, enabling the holder to assign licences within a particular frequency range, at any location in the country. These rights are known as 'Management Rights'. They have a maximum duration of 20 years. Management Rights are treated as business assets, and can be traded and mortgaged. The spectrum licences assigned within a Management Right are similarly tradable.
General user licences (GULs) – created to cover spectrum bands allocated for wide spread consumer technology, for example, wifi, wireless microphones, and remote-controlled devices. Lack of global harmonisation (in some bands) means that not all consumer devices from other countries are suitable for use here. The GUL regime alongside the product compliance framework controls the import, distribution and supply of these products.
Other legislative requirements relevant to radiocommunications include the Commerce Act 1986, which supports the competition aspects of wireless markets; and the Telecommunications Act 2001, which establishes the legal frameworks for telecommunication services provision.
In general, regulating radio spectrum:
supports public policy objectives, including providing for te reo Māori and public broadcasting
supports economic growth by enabling information and communications technology innovation, and competitive broadcasting and communications sectors
meets the growing demand for wireless services
facilitates non-commercial spectrum uses that benefit New Zealand, including public safety, aeronautical, maritime, defence communications and short-range devices (such as wifi).
1.1 Our continued role in international harmonisation
It is important to keep in mind the importance of New Zealand's continued international engagement to ensure that it makes the best radio frequency spectrum decisions. Radio equipment is generally made for large markets which support economies of scale. Global and regional harmonisation of radio spectrum is important so that radio equipment is available, affordable and interoperable. We are mindful that New Zealand has a small-scale market which cannot achieve economies of scale on its own. We need to make spectrum management decisions that recognise the international context and how other jurisdictions are managing issues, especially aligning with our closest neighbour and trading partner, Australia. As such, decisions that affect vendors and the long-term availability of equipment internationally can have significant impacts on radiocommunications sector participants domestically.
Broadly, the drivers of harmonisation and spectrum management decisions include:
Technology developments and standardisation (for example, initiatives led by the ITU, the Third Generation Partnership Project (3GPP), the Institute of Electrical and Electronics Engineers (IEEE) and the European Telecommunications Standards Institute (ETSI)).
Countries or regions with large populations making spectrum available for a particular use
(Europe, Americas, and larger jurisdictions in the Asia-Pacific).
Development and update of international regulatory frameworks on spectrum allocation and allotment (for example updates to the ITU Radio Regulations).
These drivers are often iterative and one or more of these may influence harmonisation and spectrum management decisions.
RSM closely monitors international developments and engages with other administrations, regions and the broader industry on issues. In our role as a member state of the ITU, we contribute to shaping international use of radio frequency spectrum, and the benefits of standardisation and harmonisation. We take part in international study groups and World Radiocommunication Conferences (WRCs). In the Asia-Pacific Telecommunity (APT), New Zealand plays an active role in developing proposals to help support spectrum management. As part of this we host the New Zealand Radio Sector Group, a national forum of government agencies, industry, licensees and stakeholders to discuss, debate, and provide input on issues affecting spectrum use.
1.2 Our spectrum management activities
The activities of RSM in spectrum management, allocation and assignment can be considered in the 4 broad areas shown in figure 1. Compliance monitoring and enforcement activities fall within the technical and commercial and competition areas.
Input and engagement internationally — long-term technology pathways, band allocations, trade considerations and international radio regulations
Technical assessment and advice — spectrum efficiency, technologies, Management Rights (MRs)/administrative/general use, constraints, equipment/compatibility, interference management
Commercial and competition — market dynamics, caps, price, duration, national/regional/administrative, contracts/licensing, payment options
Delivering government outcomes through policy development and decision-making — implementation requirements, sector considerations, incentives, Māori interests in spectrum, reservations, wellbeing, public good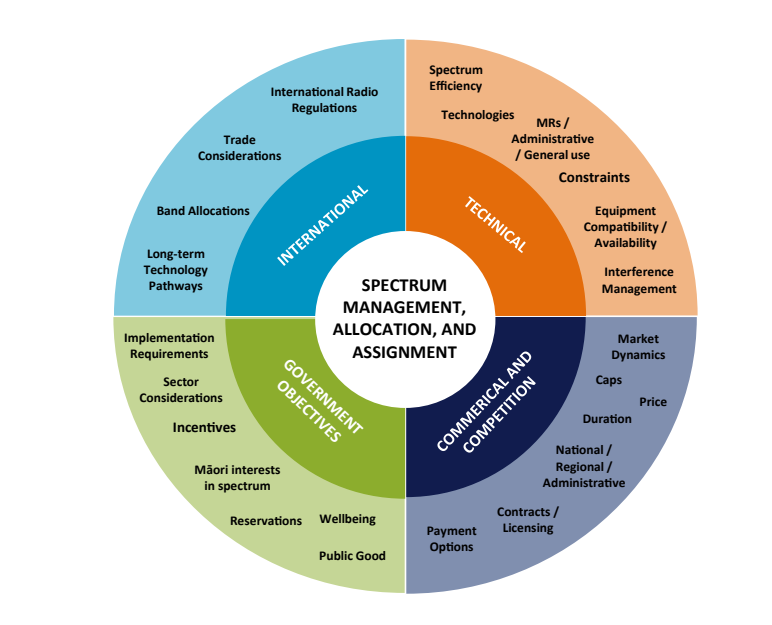 Since the previous Outlook, the activities of the 3 RSM teams (Licensing, Investigation, and Policy and Planning) have included:
creating licences
carrying out investigation activities
resolving interference problems
generating policy to support Government decisions.
In terms of spectrum rights, along with managing Crown spectrum holdings, RSM has undertaken a review of expiring rights, technical consultations, engagement with Māori on interests in radio spectrum, and making spectrum available for 5G.
---
Key RSM projects 2017 to 2023
This section provides a snapshot of some of the projects RSM has been involved in between 2017 and 2023. These projects illustrate the range of activities that have made a significant contribution to enabling connectivity that supports all aspects of New Zealanders' lives.
RSM Licensing
Developing the new Registry
RSM is required to maintain a Register of Radio Frequencies (RRF). In late 2022, RSM launched an updated RRF. We have worked towards replacing the RRF since 2019 and are now seeing the results of this project. The new RRF will make licence applications and spectrum management more efficient. It will also modernise and transform licence administration by using cloud computing, enhanced API support and GIS capabilities. Integration of the RRF with other New Zealand government digital platforms like RealMe Authentication, Quick Pay and NZBN will help make RSM services more user-friendly.
RSM Investigations
Support for major events
Resolving interference complaints
The investigations team is responsible for much of the day-to-day work of RSM in the field.
Throughout 2020 and into 2021, we worked with the America's Cup project team to ensure interference issues were minimised during America's Cup races. We also worked closely with the Ministry of Foreign Affairs and Trade (MFAT) to prepare for the Asia-Pacific Economic Cooperation (APEC) conference (which due to COVID-19 was switched to a virtual platform). Additionally, together with colleagues in MBIE's Major Events team, RSM Investigations worked to ensure fans were able to enjoy the FIFA Women's World Cup held in 2023.
Interference complaints and supplier auditing are a large part of the work of the investigation team. Since 2010 the complexity of cases has increased. This has largely been driven by an increase in different types of radio devices operating in close proximity to each other.
RSM Policy and Planning
International engagement
Enabling access to spectrum, including 5G
Government Policy Statement Māori Spectrum Working Group
RSM has continued to engage with trading partners, regional groups and relevant international organisations on a wide variety of radio spectrum issues including through the Asia Pacific Telecommunity (APT) and ITU-R study groups. This culminates in representing New Zealand at the World Radiocommunications Conference (WRC) negotiations. The outcome of WRC-19 has been implemented through treaty processes. Work continues to finalise preparations for WRC-23, taking place November to December 2023.
We reached an important milestone in our delivery of spectrum for 5G in 2023 with the allocation of spectrum in the 3.5 GHz band. RSM was directed by Cabinet to coordinate access for mobile networks, Māori interests as well as regional and private networks. In 2023, New Zealand's 3 national mobile network operators received rights in the 3.5 GHz band in exchange for accelerated 5G deployments and investment in rural connectivity through the Rural Connectivity Group. Additionally, the Interim Māori Spectrum Commission received rights in the 3.5GHz band to manage on behalf of Māori.
In terms of other spectrum allocations, we have provided a new period of rights to the 1800 and 2100 MHz bands; and consulted on the 1700 MHz, 2300 MHz and 24 - 30 GHz bands. We have continued to manage licensing in Crown spectrum including opening licencing in 3.30 - 3.34 for regional broadband, operating the Crown Managed Spectrum Park (2575 - 2620 MHz), and auctioning sound broadcasting licenses.
Since 2019, RSM has worked closely with the Māori Spectrum Working Group to progress discussions about spectrum interests with the Crown on behalf of Māori. In 2022 the Crown signed a Memorandum of Understanding with Māori to establish an enduring relationship on radio spectrum. In line with this agreement, we have transferred Management Rights to the Interim Māori Spectrum Commission in the 2100 MHz, 2300 MHz and 3.5 GHz bands.
One of the responsibilities that the Radiocommunications Act 1989 gives to the Minister responsible for radiocommunications is the ability to issue a 'Statement of Government Policy and Directions' to guide administration of the radio licensing regime. The 2021 Policy Statement directed RSM to reserve the 1427 MHz – 1525 MHz frequency range that has been internationally identified for mobile broadband development (4G and 5G). Subsequent updates have also set aside spectrum in the 1800 MHz and 1900 MHz bands, pending future government decisions, that may be suitable for the Emergency Services, rail communications or Māori interests:
Memorandum of Understanding - Māori Spectrum agreement [PDF, 661KB](external link) — MBIE
---
Next sections
In the next sections, we look forward and highlight the trends we think are likely to affect how we regulate radio spectrum in New Zealand. The trends identified are grouped into 2 broad categories:
While there are obvious interrelationships between these trends, collectively we expect they will drive future changes in business models, and service arrangements, along with adaptations to our regulatory frameworks, our planning, allocation and licensing activities.
---
< Back to main page for the document | 2. Looking forward – Technologies driving change >